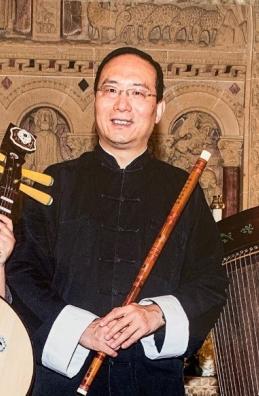 Concerts
Culture Bridge: "Flower Blossom & Moonlight on Spring River"
法拉盛图书馆文化桥系列:春江花月夜
English:
The title of this program refers not only to a famous poem, handed down by Tang Dynasty poet Zhang Ruo-Xu, but also to one of the ten most famous songs in traditional Chinese music. On the occasion of the full moon in the Mid-Autumn Festival this year, musical act Melody of Dragon will present a celebration concert using the same title "Flower Blossom & Moonlight on Spring River." Four famous musicians: Chen Tao (dizi/xiao), Liu Li (zhongruan) and Wang Jun-ling (guzheng), as well as pipa player Guo Ran (Gust Musician) will perform this piece and other famous Chinese traditional music works, which are connected with the moon. Please join us in person; the concert will also be live streamed and broadcast through Zoom. Join on Zoom:
https://queenslib.org/3sfhpeP
Meeting ID: 839 3008 1364 Passcode: 0928 Date: Sept. 28, 4pm Rooms A & B (lower level) The program is funded by the Iris and Junming Le Foundation.
Chinese:
"春江花月夜"既是唐代诗人张若虚的传世名篇,也是中国传统音乐中十大名曲之一。今年中秋月圆之际,应法拉盛图书馆之邀,神州中乐团将献上一场以"春江花月夜"为题的庆典音乐会。 四位著名音乐家:陈涛(笛子/箫)、刘丽(中阮)和王君玲(古筝),以及琵琶演奏家果然(特邀)将演奏"春江花月夜"以及其他中国著名的传统音乐作品: 如《平湖秋月》、《彩云追月》等名曲,将向您展示不同地区的中国人如何庆祝中秋佳节。 请亲临现场,演唱会也将通过ZOOM进行现场直播和转播。 點擊鏈接加入會議 :
https://queenslibrary-org.zoom.us/j/83930081364?pwd=NVVMZnkwa2pJQ1g5NlIxRTZjd3FyUT09
會議 ID: 839 3008 1364 密碼: 0928 日期:9月28日 时间:下午4 - 5点. 法拉盛圖書館 樓下會議室 A & B 本节目由乐俊民严赛虹基金赞助
DATE & TIME
Sep 28, 4:00pm - 5:00pm
How To Attend?
Both In-Person and Virtual
LOCATION
Flushing
41-17 Main Street, Flushing, NY 11355
(718) 661-1200
AUDIENCE
Adults