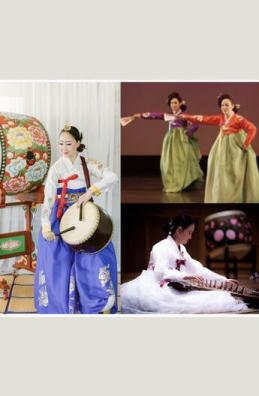 Cultural Arts
Queens Rising: The Beauty and The Spirit of Korea with KTMDC Dance Group
KTMDC Dance Group will demonstrate different types of dances, rhythms, and choreographies based in the diverse traditions of Korean culture. The performances will include: 1.- Sul-Janggu 2.- Hwa-sun Mu 3.- Gayageum Sanjo 4.- Jindo Drum Dance 5.- Han-ryang Mu 6.- Janggo Chum 7.- Heartbeat for World Peace (Korean Drumming Ensemble) Please join Zoom meeting:
https://queenslib.org/37iCzyG
Or join by phone: 929-436-2866 Meeting ID: 883 8236 3577 Passcode: 0609 This program is part of Queens Rising, a multi-disciplinary arts celebration created to highlight the borough's culture and creative diversity. To learn more, visit
https://queensrising.nyc/.
DATE & TIME
Jun 9, 6:00pm - 7:00pm
LOCATION
Virtual
AUDIENCE
Family
Registration Not Required