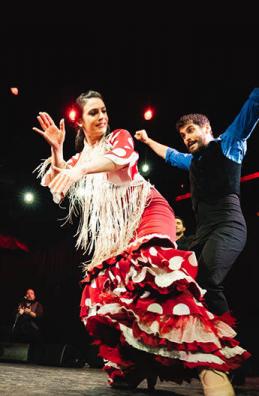 Cultural Arts
Queens Rising: Flamenco Vivo Carlota Santana presents Tablao Flamenco
Queens Rising: Flamenco Vivo Carlota Santana presenta Tablao Flamenco
English:
Founded in 1983, Flamenco Vivo Carlota Santana is one of America's premier flamenco companies based in NYC. We serve more than 40,000 people nationwide each year through far-reaching programs that entertain, educate and empower. Tablao Flamenco brings Spain's traditional flamenco cafes to your screen! This performance offers audiences a rare opportunity to feel the artists' emotions up close and experience the dynamic interplay between the dancers, guitarist and singer coming alive. The energy is explosive as artists are inspired by one another and the freedom to take risks and embrace spontaneity. Watch live on our Facebook page,
https://www.facebook.com/QPLNYC
This program is part of Queens Rising, a multi-disciplinary arts celebration created to highlight the borough's culture and creative diversity. To learn more, visit
https://queensrising.nyc/.
Spanish:
Fundada en 1983, Flamenco Vivo Carlota Santana es una de las principales compañías de flamenco de Estados Unidos con sede en Nueva York. Servimos a más de 40,000 personas en todo el país cada año a través de programas de gran alcance que entretienen, educan y empoderan. ¡Tablao Flamenco trae a tu pantalla los tradicionales cafés flamencos de España! Esta actuación ofrece al público una rara oportunidad de sentir de cerca las emociones de los artistas y experimentar la interacción dinámica entre los bailarines, el guitarrista y el cantante cobrando vida. La energía es explosiva ya que los artistas se inspiran unos a otros y la libertad de tomar riesgos y abrazar la espontaneidad. Watch live on our Facebook page,
https://www.facebook.com/QPLNYC
DATE & TIME
Jun 14, 6:00pm - 7:00pm
LOCATION
Virtual
AUDIENCE
Family
Registration Not Required