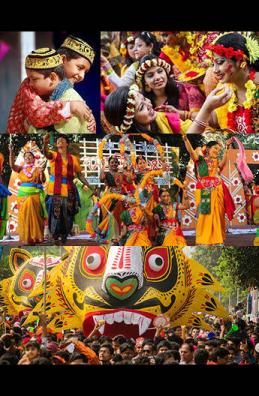 Cultural Arts
Queens Rising: Celebration of Diversity Highlighting the Festivals of Bangladesh
বাংলাদেশের উৎসবগুলোকে তুলে ধরে বৈচিত্র্যের উদযাপন
English:
The Center for Bangla Creative Works will present a highlight of the colorful festivals of Bangladesh throughout the year including historical, cultural and religious events such as EID that is coming up in July. People from diverse backgrounds join these festivals and celebrate in order to uphold humanity and protest any social injustice. There will be English translations/subtitles for non-Bangla speaking audiences. Watch on our Facebook Live Page:
https://www.facebook.com/QPLNYC
The program has been made possible in part by a major grant from the National Endowment for the Humanities: Democracy demands wisdom. Season 3 of the Queens Memory Podcast, "Our Major Minor Voices," is available at queensmemory.org/podcast/. This multilingual podcast documents the experiences of the diverse Asian communities in Queens. This program is part of Queens Rising. To learn more, visit
https://queensrising.nyc/.
Bengali:
এর পক্ষ থেকে একটি পরিবেশনা বাংলাদেশের বহুমাত্রিক উৎসবগুলোর প্রতি আলোকপাত সেন্টার ফর বাংলা ক্রিয়েটিভ ওয়ার্কস আসছে জুলাই মাসে ঈদের মতো ঐতিহাসিক, সাংস্কৃতিক এবং ধর্মীয় অনুষ্ঠান সহ সারা বছর ধরে বাংলাদেশের রঙ্গিন উৎসবের বৈচিত্র তুলে ধরে একটি উপস্থানা পরিবেশন করবে। সমাজের বিভিন্ন স্তরের মানুষেরা এই উৎসবে যোগ দেয় এবং মানবতাকে সমুন্নত রাখতে ও যে কোন সামাজিক অন্যায়ের প্রতিবাদ করার জন্য উৎযাপন করে। ভিন্ন ভাষাভাষী দর্শকদের জন্য ইংরেজি অনুবাদ/সাবটাইটেল থাকবে। মঙ্গলবার, ৭ই জুন সময়: সন্ধ্যা ৬:০০ আমাদের ফেসবুক পেজ দেখুন : s//www.faceboook.com/QPLNYC The Nation Endowment for the Humanities: Democracy demands wisdom এর আংশিক অনুদান থেকে এই অনুষ্ঠানটি উপস্থাপন করা সম্ভৱ হয়েছে।
DATE & TIME
Jun 7, 6:00pm - 7:00pm
LOCATION
Virtual
AUDIENCE
Family
Registration Not Required