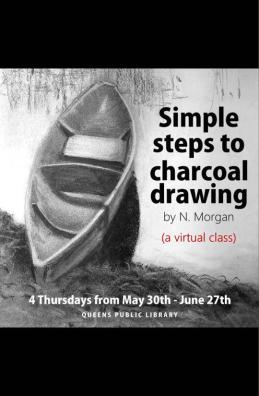 Adult Program, General
Creative Aging: Simple Steps to Charcoal Drawing
Come learn the fundamentals of drawing using charcoal. In this four-class series we will learn to approach drawing any image by first breaking it down into simple shapes, and proceeding from there. This class is designed for beginners and promises to be fun, and full of useful drawing information. This series is taught by Nigel Morgan Hope you can join us. 1 Generals Charcoal pencil 2B 1 Generals charcoal pencil 4B A 9x12 sketch pad any brand from Dick Blick 1 Maple hand held sharpener 1 kneaded eraser PSD Administration is inviting you to a scheduled Zoom meeting. Join Zoom Meeting:
https://queenslib.org/3K2KroE
Meeting ID: 811 4082 7781 Passcode: 121579
DATE & TIME
Jun 20, 11:00am - 12:45pm
LOCATION
Virtual
AUDIENCE
Seniors, Adults
Other Dates & Locations
Adult Program, General
Jun 27, 11:00am - 1:00pm
Virtual
Creative Aging: Simple Steps t...